Looking for the right task management tool? Here's a guide to help you make the best choice.
What Is Task Management Software?
Task management software is a helpful tool that assists in assigning, tracking, and organizing tasks within a project. Some even include subtasks to make larger projects more manageable by breaking them down into smaller pieces. Additionally, task management software provides reporting tools to analyze task life cycles, ultimately improving overall productivity.
What is the functioning of task management software?
Task management software is typically cloud-based, allowing access to projects, tasks, and data from anywhere. Real-time updates enable managers to quickly evaluate which team members can take on tasks and monitor completion status, while employees can view their task lists from personalized dashboards.
Task management software is designed to assist with managing tasks from start to finish. It typically includes time-tracking, tagging, filtering, and commenting features. These features work together to improve workplace efficiency, communication, and organization.
As you complete tasks, the data is stored and used to generate reports for managers. These reports can help identify areas for improvement in time and resource management.
Choosing the Best Task Management Software
Whether you are an independent contractor or a large corporation, evaluating your team's optimal working style is crucial. We recommend assessing each task management tool's approach to collaboration, communication, views, and pricing structure.
Effective collaboration involves not only your coworkers but also outsourced assistance and clients. To share view-only boards with clients, ensure your chosen software provides this feature within your budget. Specific task management tools also enable you to invite clients or collaborators as guests and assign unique permissions to each user.
You have many options when selecting a task management tool for your project. Some tools are simply boards for listing and organizing tasks. In contrast, others offer additional features, such as leaving comments, sending direct messages, starting group chats, or integrating with popular communication tools like Slack. Choosing a tool that aligns with your organization's communication needs is essential.
When selecting a task management tool, it's essential to consider the pricing structure. A per-user-per-month pricing plan may suit your budget if you have a small team. On the other hand, if you have a larger team, an enterprise plan with a custom price or a flat-fee price with unlimited users may be more appropriate.
Important Characteristics
To effectively build and manage tasks and projects, choosing task management software with essential features is crucial. It is recommended to ensure that even the low-priced plans include these features.
Project views:

Finding task management software that offers only one picture is challenging. Unfortunately, diverse project views are frequently exclusive to high-tier plans. These views are crucial for obtaining a detailed understanding of the required work or a bird's-eye view of all ongoing projects. Having the flexibility to choose from various project views is also beneficial for accommodating the working styles of everyone involved, whether they prefer a list-based approach or a visual Kanban-style dashboard.
Subtasks:

Most task management software provides basic task management functionality. However, superior task management software often includes subtask management capabilities. This feature lets you divide an enormous task into smaller subtasks and delegate them to various team members.
Time tracking:

Time tracking is a common feature in task management software, but it's not always included. It's essential to have the ability to track both billable and non-billable hours using your task management tools. Integrations can help fill this gap.
Two-factor authentication

: Many task management tools come equipped with security measures to safeguard data, and one of the most widely used is two-factor authentication (2FA). This functionality mandates that users authenticate their identity with a code sent via email or SMS and a password.
Discover the Advantages of Using Task Management Software.
Task management software can be likened to trees in a forest of project management software. It is a valuable business tool, enabling effective coordination among team members, teams, and departments. The following are some of the critical advantages of using task management software:
Centrally located:

Organizing tasks, documents, and files for each project on individual boards or charts facilitates seamless collaboration for team members and enables managers to track the project's progress easily.
Easy access:

Many task management software operates on the SaaS model, meaning you can access your data and files as long as you have an internet connection. You can efficiently work on your tasks from a browser, a PC app, or a mobile app on your phone or tablet.
Improves collaboration:

Using task management software can significantly enhance team collaboration by allowing members to work together efficiently on subtasks and the project as a whole.
Easy delegation:

Use task management software to reduce the number of emails and touchpoints required to delegate tasks to team members. With this tool, you can easily create and assign tasks with deadlines and notes to the relevant team member.
Break down big tasks:

Managing tasks can be simplified with software that enables subtask distribution among team members. This approach guarantees that everyone has a fair share of the work and contributes to the project's efficient completion.
What is the task management app (Taskedin)?
The primary purpose of task/project management software is to facilitate project planning and tracking on one centralized platform. The best project and task management software available is Taskedin which can be used on a desktop, as a web-based app, and as an IOS or Android app.
The Taskedin task app has been created to aid business owners in the following aspects:
Project Planning:

With Taskedin, project managers can easily create roadmaps and visually plan project tasks and interactions.

Communication:

All team members and essential stakeholders can view, update, and edit project documents. Additionally, users can communicate with each other via mentions or direct messages.

Calendar and contact sharing:

It's important to have a system in place where scheduled meetings, contacts, and activity dates are automatically synced across all user calendars.

Task management:

As a project manager, you have the ability to assign tasks and deadlines to each team member. It's important to keep your team members in the loop by providing regular updates and status reports.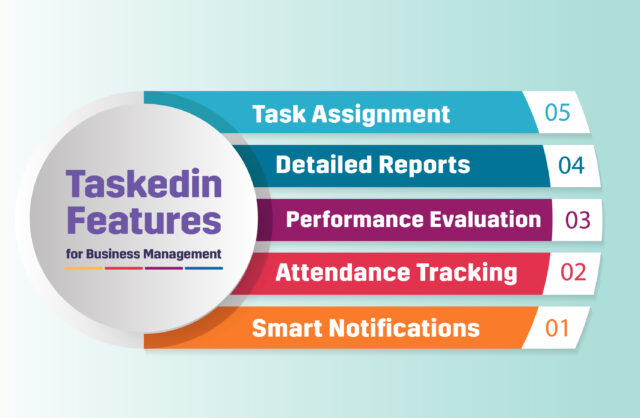 TaskedIn task management software is powerful because it enables project managers and team members to prioritize and communicate task completions in an organized and streamlined manner.
There are various other uses of project management software such as resource allocation, change management, budget management, documentation, and also as a management system.
The Taskedin application is designed to assist you in organizing your work efficiently. It saves you a lot of time and effort by keeping everything in its proper place. When you're ready to expand your team, this application makes it easier to onboard new members with minimal downtime.